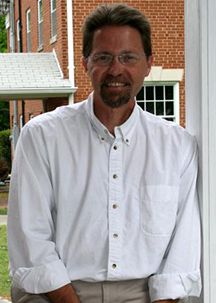 Hi, my name is Dan Ficklin and I'm the Senior Pastor here at Union Ridge. Thank you for taking the time to visit our webpage to find out more about us. I hope it will interest you to seek further.
Each Sunday since Covid (and when it's warm), we move our worship service outside. You can bring a lawn chair or blanket and enjoy worship in God's original sanctuary, or you can choose to sit in the sanctuary and watch the service as we project it on the big screen via Facebook Live; or you can sit in your cars in the parking lot and listen in on 87.9 FM. The schedule for the rest of the year is as follows:
August & September – Outside at 9:00 AM
October – Outside at 11:00 AM
November through April – inside at 11:00 AM
There is popularity in this type of casual worship as well as in the variety of music and musical guests we have. There's our incredible band; special soloists and groups; and the choir with its blend of the new combined with a new "take" on the old. And it all serves one purpose: to reach people with God's message through song.
There's excitement in the Children and Youth Ministry as we're preparing to hire a Full-Time Children & Youth Pastor. We already have a great Wednesday night event – "Children in Action" for those 5th grade and under (that includes dinner), and small groups of middle and high school youth meet then as well. We've just finished a GREAT "Summer Sizzle" (our "rebranded VBS), and the youth had a truly blessed and anointed time at FUGE camp in Lynchburg.
This year our annual Harvest Festival is on October 24 with great BBQ and all the fixin's, music on the lawn (weather permitting), and our annual auction of great hand-made crafts, and cakes and pies. The annual Children & Youth Ministry Trunk-or-Treat takes place on Halloween, our monthly Food and Clothes Pantry is on the 3rd Saturday of each month (10:00 am), the Men's & Women's Ministries are active, and the Christmas Season always brings lots of surprises and chances to serve and share Christ. In other words, there are lots of ways and places to serve and grow the Kingdom.
With all that going on, the main thing we strive to do here, however, is to listen for and follow God's voice as we fulfill the Great Commission. Everything we do is focused on one goal: making disciples who walk closely with God and serve others. We are kingdom builders who seek to grow in the grace, mercy, and forgiveness of Jesus Christ every day.
We'd love to have you join us so we can tell you more about the faith and love we share, and I welcome any questions you have as together we continue our journey of faith here "on the Ridge."

Grace,
Rev. Dan