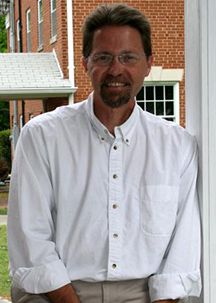 Welcome from Pastor Dan Ficklin
Hi, my name is Dan Ficklin and I'm the Senior Pastor here at Union Ridge.
Thank you for taking the time to visit our webpage to find out more about us. I hope it will interest you to find out more.
There's a lot going on here "on the Ridge" this summer.
First, we have added a second worship service. Covid forced us outside last year, and that service has become incredibly popular. It's held on the lawn of the church on Sunday mornings at 9:00 am. Bring a lawn chair and have a seat in the shade or sit in your car and listen in on the radio. I'm outside for this service and so are the musicians so everyone can see what's going on. It's casual and the music is a blend of the new with a new "take" on the old. Then at 11:00 am we move inside where it's a little cooler for a more traditional service with the piano and organ.
We've got some great things going on outside of worship, too. There's going to be a KIDZ Camp June 28th through July 2nd for elementary-aged children (10:00 am – 2:00 pm) but you'll need to sign up soon – we're almost full already! Then starting in the middle of July there will be a Wednesday night SUMMER SIZZLE for everyone – dinner along with classes and activities for all ages including a Bible study I am teaching about "The Afterlife". Everything will culminate in a big celebration on August 18th with lots of surprises.
For missions and outreach, there is a food and clothes pantry at 10:00 am on the 3rd Saturday of every month where there is also a snack and Bible study. We have an active Children and Youth Ministry (we're looking to hire a new full-time Children's & Youth Pastor), Men's Ministry, and Women's Ministry. There's Meals on Wheels, a drive-through Living Nativity in December . . . well, you get the idea. There are lots of ways and places to serve and grow the Kingdom.
If you're from around this area you're familiar with our annual Harvest Festival held on the 4th Saturday in October. There's an awesome BBQ meal (eat in or take out) with the best homemade desserts around; terrific music from local and regional groups; and a big auction to close out the evening. Then each spring our annual Chicken BBQ takes place.
The main things we do here, however, are listen to hear and follow God's voice as we fulfill the Great Commission, and grow in the grace, mercy, and forgiveness of Jesus Christ. Everything we do is focused on one goal: making disciples who walk closely with God and serve others.
We'd love to have you join or contact us so we can tell you more about the faith and love we share, here "on the Ridge."
Grace,
Rev. Dan